Pregnancy Boudoir has gained enormously in recent years. This genre involves taking intimate yet sensual portraits of expectant mothers during gestation to document both their beauty and unique journey during this period. The goal is to help women feel empowered and confident during an oftentimes uncomfortable time in their lives.
Understanding this style of photography aims to capture the beauty of pregnant mothers through sensual yet artistic photographs that highlight the curves and changes of their bodies during gestation. These pictures should serve as a celebration of femininity during this journey.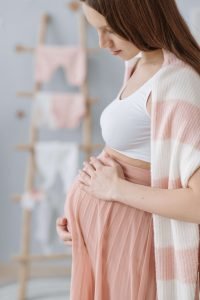 Such photography can be an incredible empowerment and confidence booster for expectant mothers, helping them embrace their changing bodies while feeling beautiful and sensual during a time when many may feel less confident about themselves. 
Key Takeaways
Pregnancy boudoir photography aims to capture the magnificence of pregnancy.

Maternity pregnancy boudoir provides an empowering and confidence-boosting experience.

These photos can act as a lasting memory, capturing all the splendor and individuality of their pregnancy journey.
Understanding Pregnancy Boudoir Photography 
Expectant mothers increasingly choose photography sessions as an intimate yet sensual form of capturing beauty and essence during gestation. Sessions aim to boost confidence during a period when self-assurance might wane due to changing bodies.
An expecting mother should look forward to a comfortable session where her photographer creates an inviting and relaxing atmosphere, whether indoors, outdoors, or at her residence. The goal is to capture her body and baby bump from flattering angles with guidance from the photographer.
Pregnancy photography allows women to embrace themselves during this transition period, creating memories for future generations and providing empowerment for those who may feel self-conscious about changing bodies.
Preparing for a session involves selecting comfortable outfits that showcase the baby bump. Options include lingerie, flowy dresses, crop tops, and high-waisted bottoms. Communication with the photographer is essential when discussing specific ideas for pictures.
The Importance of Pregnancy Boudoir
Every woman knows that pregnancy is an emotional journey filled with changes. Many feel self-conscious during this period; thus the need for pregnancy photography.
It offers women an engaging way to commemorate the changing body during gestation. By opting for pregnancy boudoir sessions, women get to celebrate both femininity and life itself in ways they will treasure forever.
Pregnancy boudoir photography provides women a powerful platform to celebrate themselves during an often self-critical stage in pregnancy, giving them the confidence they need to feel beautiful in their skin and feel empowered in themselves and the results are breathtaking. Pregnancy photo sessions aim to put women at ease to achieve stunning photos from each session.
Another advantage of pregnancy photography is that it creates lasting memories to remember this special time in her life and showcases both beauty and strength during this transformative stage of development. Photos like these will serve as reminders to her of just that fact.
Read more: >> Dye Stealer Pregnancy Test: Ultimate Guide from A – Z
Planning Your Pregnancy Boudoir Session 
When organizing a pregnancy photography session, many factors need to be taken into account to ensure both an enjoyable experience and stunning photos are produced. Here are a few essential sub-sections you need to remember when organizing this experience:
Choosing the Right Photographer for maternity pregnancy boudoir 
Finding an experienced pregnancy photographer that makes their client comfortable can help ensure beautiful pictures. Do your research comparing portfolios, reviews, and prices before making your choice – the results might just surprise you.
Deciding the Perfect Timing
Timing a pregnancy boudoir session correctly is also key, with the ideal timeframe being between 28-32 weeks gestation – this allows enough of the baby bump to stand out without making you too uncomfortable to pose. Booking early also gives ample time for planning the shoot, outfit selection, and working closely with the photographer in creating that desired look.
Selecting the Ideal Location
The location should also be carefully considered, from hosting it at their own homes to studio or outdoor locations – making sure it reflects each woman's desired aesthetic while meeting with photographers can assist in finding their optimal choice. Discussing possible locations will help narrow down what would work best.
Picking Out the Perfect Outfit
Finding clothing that compliments both baby bump and body can make all of the difference when selecting an outfit for photo sessions. Clothing should emphasize both factors. Many women prefer form-fitting dresses; it all depends on the client's taste. Bring an assortment of garments along to help find their desired look more quickly.
Planning a boudoir session requires taking into account various elements to ensure both an enjoyable experience and gorgeous photos are produced. By selecting an experienced photographer, timing, location, and outfit suited specifically for their client they can produce memorable pictures they will treasure throughout their lives.
Poses for Pregnancy Boudoir
Capturing the beauty of pregnancy through boudoir photography can be an unforgettable way to commemorate this exciting stage in one's life. Finding poses that emphasize curves can highlight all that an expectant mother brings while emphasizing a radiant glow from within – these poses may help produce stunning pregnancy photos. Here are a few that could create beautiful pregnancy photos.
Solo Poses 
Solo poses are a great way to highlight the pregnant mother and her expanding belly, providing photographers with some poses perfect for pregnant women:
Hands-on Belly: This signature pose involves placing both hands gently over one's belly to highlight its growing bump, whether sitting, standing up, or lying down. This pose works great both while standing, sitting, and lying down
Profile Shot: An attractive profile shot can show off all of your curves and the changing silhouette. An expecting mother may either stand or sit with their side facing toward the camera for this type of picture.
Lying Down: Lying-down poses can add an intimate yet relaxed atmosphere to the photo, with expectant mothers lying either on their side or back, with hands placed either over their bellies or draped casually over their bodies.
Couple Poses  
Couple poses can capture the bond between an expecting mother and her partner during gestation boudoir photography sessions. Here are a few couple poses that might work:
Embrace: An embrace pose can show the love between an expecting mother and her partner. Standing side-by-side, arms wrapped tightly around each other demonstrates this close bond.
Kissing: For photos that create romantic and intimate feelings, kissing poses can add the perfect romantic element. Expecting mothers can share an intimate kiss either while standing or sitting.
Hands-on Belly: This pose can work beautifully in both solo and a couple of photographs. One partner can place their hands atop an expectant mother's belly to demonstrate the bond they share and its meaning for both of them as their baby develops within her womb.
Pregnancy photography can be an elegant way to commemorate and memorialize an expecting mother's journey during gestation. By employing specific poses during this momentous occasion, she and her partner can capture these precious memories for years to come.
Also Read: >> Are You Expecting? Wondfo Pregnancy Test Review – The Must-Read Before You Test
Post-Session Considerations for Maternity Pregnancy Boudoir
Following a successful maternity boudoir photography session, clients should keep two post-session considerations in mind: photo editing and prints and albums. In this section, we'll touch upon these topics more fully.
Photo Editing
After each session, photographers typically select and edit only the best photographs to enhance their aesthetic appeal. Edits typically involve adjustments in terms of colors, brightness, contrast, and sharpness while other adjustments could include blemishes being removed by retouching or other means. Clients should discuss their desired editing styles before engaging a photographer to make sure that final images meet expectations.
Photo editing can be an extremely time-consuming process that may take several weeks to complete, so clients must allow enough time for editing by their photographer to take place. Rushing this step can result in lower-quality images that do not meet the client's standards of satisfaction.
Prints and Albums
After Edits are Complete clients may purchase prints and albums of their favorite images once editing has concluded. Each photographer may offer various print sizes and materials (canvas, metal, paper) suited to your budget needs and requirements; discuss this option with them when choosing prints that best meet these.
Albums are another popular means for displaying maternity boudoir images, giving clients options ranging from traditional bound and lay-flat albums. Photographers also may offer custom album design services to create something truly bespoke that shows off clients' favorite photographs in an album designed specifically for their clients.
Clients should remember that producing and delivering prints and albums may take several weeks and should allow enough time for their photographer to fulfill the order. Rushing could result in lower-quality prints or albums not meeting customer requirements.
Boudoir Maternity Dress
Boudoir maternity dresses make the ideal selection for photoshoots that emphasize pregnant women's beauty and elegance. These dresses are designed to flatter a growing belly while providing comfort and style. Below are key characteristics of such garments.
Comfortable Fabric
Maternity dresses should typically feature soft and stretchy materials to accommodate a growing belly, without causing irritation or discomfort against the skin. Popular fabrics for such garments are chiffon, lace, and tulle
Flattering Design
Pregnancy boudoir dresses are meant to flatter pregnant women's bodies during gestation by emphasizing curves while creating an illusion of slimness. Some popular designs for these garments include off-the-shoulder sweetheart necklines and empire waists.
Versatile Style
Maternity dresses can be worn to various events such as photoshoots, baby showers, and weddings, making this style versatile enough for many events. Pair it with some heels and statement jewelry for a glamorous look or with sandals for a more casual vibe.
Customizable Options 
Many boudoir dresses feature customizable options, such as color, length, and sleeve style – so pregnant women can select an attire that best matches their taste and preferences.
Pregnancy Photoshoot 
Pregnancy can be one of the most amazing times in one's life, and having a photoshoot during gestation is an amazing way to preserve these special memories and capture their magic forever. A pregnancy photo shoot may include traditional portraits as well as more intimate boudoir photos to capture this exciting phase in one's journey toward motherhood.
Planning a pregnancy photoshoot requires several considerations. First and foremost is finding an experienced photographer. He or she should guide you through the process and help put you at ease while being photographed.
Select an ideal location for the photoshoot. Popular outdoor settings for pregnancy photoshoots may include parks or gardens; indoor venues could include studios or your home.
When selecting clothing to wear during pregnancy, there are multiple considerations. Many women opt for form-fitting dresses and tops designed to accentuate their baby bump while others might choose more casual or comfortable options – the key here is selecting something which makes you feel good! It is key that whatever decision is made leaves the wearer feeling secure in themselves while at the same time inspiring confidence in others.
Photographers will guide you through various poses and settings in a photoshoot session to capture an array of photographs. Communication between you and the photographer during this process is crucial; let them know immediately if there are any poses or settings that make you uneasy.
Couples Maternity Boudoir
Boudoir photography for expecting parents is an engaging way to capture their love and bond during an exciting yet fragile stage of their lives – like pregnancy. These intimate portraits highlight both of them while showing them together looking forward to welcoming a baby into the family.
At a couple's maternity boudoir session, the photographer works to create an informal yet relaxing environment and capture natural interactions and expressions between partners. They may suggest poses or settings but ultimately the couple's comfort is what should come first.
Couple boudoir photography poses are commonly popular; among these is the "belly kiss," in which one partner kisses the pregnant belly to show love and affection between partners as well as for their new arrival. Another popular pose is called an embrace, in which couples tightly hug one another symbolizing support and commitment during such an exciting period in their lives.
A couple's maternity boudoir photography may include props or accessories to reflect each couple's personalities or interests, for instance incorporating hiking boots or backpack into photos; conversely, a couple who loves music may pose holding up a guitar or another instrument as props or accessories.
Intimate Maternity Photography
Intimate maternity photography aims to capture both the natural beauty and emotions associated with gestation. Sessions may take place anywhere, from inside an expectant mother's home or outdoors – the aim is always to produce images that are genuine, personal, and memorable for her partner and herself.
One advantage of intimate photography is making expectant mothers feel relaxed and at ease during a photoshoot session. A photographer will work to provide a supportive and safe atmosphere that encourages expression from motherhood during her session – which results in images that capture more natural, authentic images reflecting motherhood as a unique experience.
Intimate photography can also serve to engage a partner in your pregnancy journey and celebrate both its beauty and intimacy together. Photos featuring both partners create beautiful intimate moments between the two of them while celebrating mother-child bonds long before birth takes place.
Sensual Maternity Photography
Sensual maternity photography encapsulates the essence and beauty of womanly femininity while celebrating pregnancy's changing body, including curves, lines, and softness that come with gestation. Images should capture both sensuality and tastefulness highlighting both motherhood as well as life growing within.
Lighting and posing are essential to creating sensual maternity photos. Soft lighting creates an intimate setting while posing can accentuate body curves and lines. Props like fabrics, flowers, or jewelry also can add visual interest and increase the aesthetic value of photos taken of expecting mothers.
Finding a photographer specialized in maternity boudoir photography who can make expectant mothers comfortable and confident during the shoot is essential. Your chosen photographer must have extensive experience working with pregnant women as well as guide posing and wardrobe selection for optimal results.
DIY Maternity Boudoir Photography
Location 
To create the ultimate pregnancy photography session, choose an intimate yet comfortable location like a bedroom, living room, or any other cozy spot within your house. Make sure this location receives ample natural lighting; add extra lights as necessary to highlight curves and angles on pregnant bodies.
Wardrobe 
Pregnant women should select clothing that makes them feel both cozy and sensual during gestation – whether that means lacy lingerie sets, silk robes, or just simple tank tops and shorts – that accentuate their curves while emphasizing their body's beauty.
Props
Props add an exciting and playful element to maternity boudoir photography sessions. Use items like flowers, blankets, and pillows to create an inviting setting – adding personal items like ultrasound photos or baby shoes can give it even more of an intimate and special feeling!
Camera and Equipment
A high-quality camera isn't essential when it comes to DIY maternity boudoir photography; even smartphone cameras with good resolution and lighting may suffice. A tripod or stable surface should help your camera remain still and prevent blurry images.
Post-production
Following your photo shoot, edit the images using photo editing software like Adobe Lightroom or Snapseed to enhance color and lighting. Be wary not to over-edit; maintain natural looks instead.
With these tips in hand, anyone can create gorgeous maternity boudoir photos without breaking the bank.
Pregnancy Boudoir Near Me
 There are a few helpful guidelines for finding your pregnancy boudoir photographer near you:
Search Online
Your first step towards finding a pregnancy photographer near you should begin online by searching search engines like Google to identify local photographers specializing in maternity boudoir photography, while social media platforms such as Instagram or Facebook may help as they post images from these professionals online as well.
Check Out Their Portfolio
After finding some pregnancy photographers near you, it's necessary to review their portfolio. Look for photographers with experience shooting maternity photography who match up with your vision – ask to see full galleries from previous clients for further insight.
Read Reviews
Reviews can give a great indication of what to expect when hiring a photographer. Search reviews online via their website, social media pages and review websites like Yelp for comments related to professionalism, communication, and the overall quality of their work.
Ask for Recommendations
Do you know someone who has gone through a pregnancy boudoir session before? Ask for their recommendations so you have an idea of what you can expect from their photographer, plus maybe get a discount through referral.
FAQs
Conclusion 
Pregnancy boudoir photography offers pregnant mothers an exquisite way to commemorate and document the journey to motherhood. Through skilled photography, expectant mothers can embrace their ever-evolving bodies while making memories that both themselves and their children will treasure throughout their lives.
Maternity Boudoir photography goes far beyond simply taking photographs; its goal is to empower women during an otherwise vulnerable and awkward stage in life to feel beautiful and empowered during pregnancy. Boudoir sessions celebrate both the female form and the life growing within, offering women a way to connect to themselves as bodies change throughout gestation and embrace these changes as part of an intimate photoshoot-style experience.
Finding an experienced photographer to conduct your maternity boudoir session is key – someone who understands both its unique requirements and those of pregnant women will help make sure that the best photos can be captured during this experience. A good photographer should put clients at ease while simultaneously producing quality shots for future reference. 
SOURCE
• Maternity Boudoir experience. Beboldbeyou.co.uk. Accessed September 7, 2023.
• Maternity Boudoir. Expertphotography.com. Accessed September 7, 2023.
• 5 Tips for Preparing for a Maternity Boudoir Session. Miettephotography.com. Accessed September 7, 2023.